Support | Mail Settings
When you have mail through our server you need to set up with secure settings. We prefer that you use the IMAP settings to allow secure sending and receiving of emails.

Important Note : start February 2024 Google and other Mail providers are tightening up their mail system where uers are sending out emails. They are trying to cut down on the amount of spam and scam messages.

They are looking to Authenticate outgoing email, avoid sending unwanted or unsolicited email, and make it easy for recipients to unsubscribe. We would say that at least 50% of domains do not have their email security tight enough and are open to abuse. Many mail providers use these feature right now, so ensure your mail server is setup correctly.

Ensure your domain mail settings are up to date:
-- Set up SPF and DKIM email authentication
-- have a valid PTR for valid forward and reverse DNS records,
-- ensure that the DMARC quarantine enforcement policy is enabled and set to Quarantine

SPF, DKIM and DMARC are the key issues ! All our domains have these tightened up.
If you need help and guidance please get in touch with 2MX.
---------------------
You can also access mail online using webmail.
* * * PLEASE ensure you have backup of all your mail and attachments, the server is aimed at storing copies of your mail before receipt. Your backup is your personal computer/tablet once they have been downloaded at your end. We are not responsible for emails once you have received and stored.
Setup a white-list and add to your Safe Senders list
more details
Access your email online using :
SERVER 3
https://fife.uk/webmail
SERVER 6
https://2mx.it/webmail
SERVER 7
https://01383.uk/webmail
and enter your email address and password. In case your emails are held on the server, you can just create a new email account and use the new incoming and outgoing names. You will then show two email accounts.
!! Outlook information for changing settings -
Click Here
. You may need to amend this if Outlook is failing to save your new settings.
Another issue with Outlook can be a network issue. By default, Windows favors IPv6 addresses over IPv4 addresses. However, IPv6 can lead to Something went wrong and Outlook couldn`t save your account settings error. Follow these steps to disable IPv6 in Windows, this step seems to work very well:
https://superuser.com/questions/1545288/disable-ipv6-connectivity-on-windows-without-restarting-the-computer
Change Password
To change a password use the link ":20000"
The user needs to login: https://2mx.uk:20000
On left hand side there is a login and Change Password
We are recommending that you use IMAP settings for sending and receiving. (POP3 and SMTP are not secure enough and in many cases email will not get through). Use your username for login. you username is something like: "name.fife" or "name@fife.co.uk" depending on the settings we give to you.
These servers work on my IPhone as well as my desktop Thunderbird Email Client but you should be able to setup Outlook as well. Receiving mail through your mobile phone, for receiving email etc:

SERVER 3: IMAP server: fife.uk
SERVER 6: IMAP server: ns.2mx.it

SSL
Authentication plain type password
Port 993
Sending email can be problematic depending on your ISP but is usually fine if you can set up IMAP as your mail send server.
For sending email the IMAP (SMTP) Outgoing Server settings are:

SERVER 3: IMAP server: fife.uk
SERVER 6: IMAP server: ns2mx.it

Port: 587
Authentication method: Normal password
Connection security: SSL/TLS
(STARTTLS, if available)
Iphone has "Use SSL"

The site certificate is now fully working, what this means is you will see a padlock indicating that the access is secure using https protocol.
Please Note: in some cases if you receive email but cannot send then change your email username in the Outgoing Mail server settings to use a minus character (-) instead of the at sign (@)
To login to the mail system and change password use this link
SERVER 3 .
Usermin email
SERVER 6 .
Usermin email
When we move server you will need to ensure you have a backup copy of your folders. You then add a new account pointing to the new server (using the same account details but new server name).
Then move or copy the original folders to the new mailbox (at this point the folders will then appear on the new server mailbox).
Iphone Setting as as example: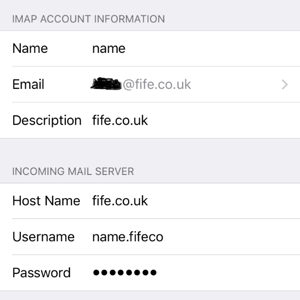 If you are having issues with these settings on Iphone/Ipad make sure the account is saved. Then go back into the mail account to allow the SSL parameters to be selected.
On our newer servers the
Username
will be the same as your email address.