Support | Mail Settings
When you have mail through our server you need to set up with secure settings. We prefer that you use the IMAP settings to allow secure sending and receiving of emails.

You can also access mail online using webmail.

PLEASE ensure you have backup of all your mail and attachments, the server is aimed at storing copies of you rmail once they have been downlaoded into your personal computer/tablet.
Access your email online using :

SERVER 2 https://01383.co.uk/webmail
SERVER 3 https://fife.uk/webmail

SERVER 5 https://2mx.uk/webmail
SERVER 6 https://2mx.it/webmail
SERVER 7 https://01383.uk/webmail

and enter your email address and password. In case your emails are held on the server, you can just create a new email account and use the new incoming and outgoing names. You will then show two email accounts.

Change Password
To change a password use the link ":20000"
The user needs to login: https://2mx.uk:20000
On left hand side there is a login and Change Password

We are recommending that you use IMAP settings for sending and receiving. (POP3 and SMTP are not secure enough and in many cases email will not get through). Use your username for login. you username is something like: "name.fife" or "name@fife.co.uk" depending on the settings we give to you.

These servers work on my IPhone as well as my desktop Thunderbird Email Client but you should be able to setup Outlook as well. Receiving mail through your mobile phone, for receiving email etc:

SERVER 2: IMAP server: 01383.co.uk
SERVER 3: IMAP server: fife.uk

SERVER 5: IMAP server: 2mx.uk
SERVER 6: IMAP server: 2mx.it
SERVER 7: IMAP server: ns.01383.uk

SSL
Authentication plain type
Port 993

Sending email can be problematic depending on your ISP but is usually fine if you can set up IMAP as your mail send server.

For sending email the IMAP (SMTP) Outgoing Server settings are:

SERVER 2: 01383.co.uk
SERVER 3: IMAP server: fife.uk

SERVER 5: IMAP server: 2mx.uk
SERVER 6: IMAP server: 2mx.it
SERVER 7: IMAP server: ns.01383.uk

Port: 587
Authentication method: Normal password
Connection security: SSL/TLS
(STARTTLS, if available)
Iphone has "Use SSL"

The site certificate is now fully working, what this means is you will see a padlock indicating that the access is secure using https protocol.

To login to the mail system and change password use this link

SERVER 2 .Usermin email
SERVER 3 .Usermin email

SERVER 5 .Usermin email
SERVER 6 .Usermin email
SERVER 7 .Usermin email

When we move server you will need to ensure you have a backup copy of your folders. You then add a new account pointing to the new server (using the same account details but new server name).

Then move or copy the original folders to the new mailbox (at this point the folders will then appear on the new server mailbox).

Iphone Setting as as example: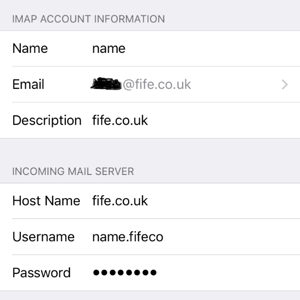 If you are having issues with these settings on Iphone/Ipad make sure the account is saved. Then go back into the mail account to allow the SSL parameters to be selected.

On our newer servers the Username will be the same as your email address.