Blog | Technical
In with the New !
In 2008 the Royal Caledonian Curling Club provided their members with an online membership database. This was derived from a single user Microsoft Access database and ported to an online version which then allowed multi-user access.

New features were added over the intervening years to help with the unique membership requirements of teh RCCC. Recently we were again asked to revamp the system to modernise both the front-end and back-end database system. Scottish Curling`s brand new membership website was completely overhauled and released in July 2021.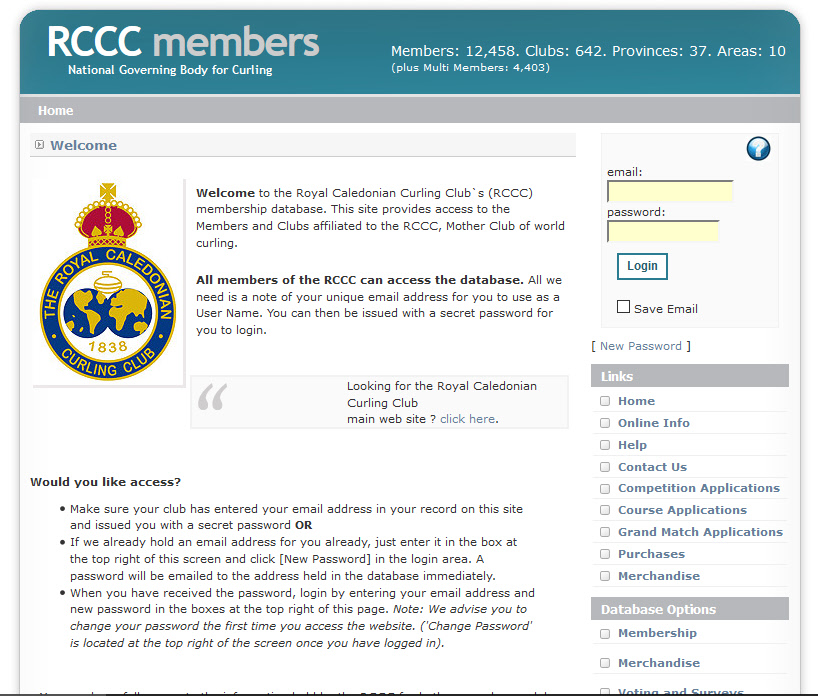 The original website, shown above, was very functional but clunky. New website technology features allowed a more user friendly, responsive layout and give easier access to the system on a varfiety of different different devices.

The new front page is shown below, with some other images showing some other views of the system.

As well as a new membership front end, the administration back-end has been completely revamped, giving Scottish Curling Administrators a much easier and cleaner means of managing the online database.

ScottishFootball.online
2mx also provide ScottishFootball.online, a major provider of live streaming of Scottish Football matches. This SFO website streamed to over 36,000 users in the season 2020-2021. Technology used in the SFO website has been included in the new Scottish Curling website.

Security is a prime concern and we also have scripts checking for illegal access by hackers and spammers. Since 2008 there has been a major explosion in illegal attempts to break into websites. We have banned over 1,000 IP addresses on our suite of websites which provides a barrier to these unscrupulous users.